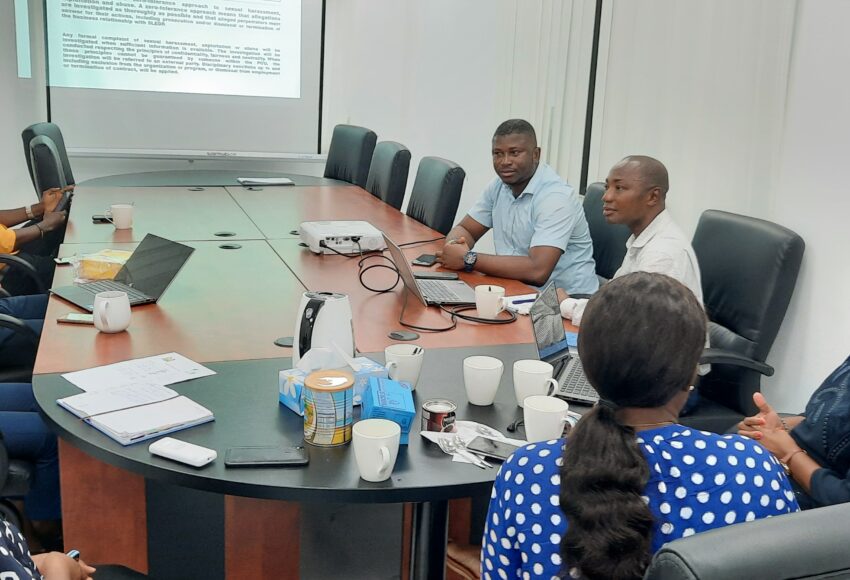 SLEPD STAFF APPRAISED OF HUMAN RESOURCE POLICY AND EMPLOYEE CODE OF CONDUCT PROVISIONS
In a presentation done by the Project's Social Safeguards Specialist, William Dauda on Tuesday 31st August 2021, staff of the Sierra Leone Economic Diversification Project (SLEDP) were appraised of the provisions in the Human Resource Policy and Employee code for the prevention of sexual harassment, exploitation, and abuse in the workplace. The handbook provides briefings on the dos and don'ts in relation to staff conduct in the workplace and project-related areas as it is intended to guide and support leaders, consultants, and employees in carrying out their duties and responsibilities in the implementation of the project.
According to William Dauda, project staff, consultants, staff of implementing agencies, and other key stakeholders are expected to know and incorporate into their daily work, a number of national and international laws, rules, regulations, policies, and procedures that speak to human resource, Gender-Based Violence, Sexual Exploitation, and Abuse and Sexual Harassment issues. He also added that such discussions would help staff to avoid giving their individual interpretations to the appropriate and standard behaviour expected at the workplace.
Speaking on the effectiveness of the presentation of such a document to all staff, Administrative Assistant Fatmata Mansaray stated that the presentation of the policy was quite timely so as to guide the behaviour of staff and called on colleagues to endeavour to abide by the provisions therein. M and E Specialist Henson Venn stated that the issues highlighted in the presentation fall under the Grievance Mechanism Indicators of the project and that the policy is a common tool for international organisations relating to standard behaviour.
The general consensus from staff on the presentation was that it was an 'eye opener', with a promise to make a conscious effort to behave appropriately. With regards to the long term impact of the policy, Social Safeguards Specialist William Dauda remarked that it is expected that there would be general adherence to the provisions therein resulting in a workplace free from harassment, where staff would effortlessly relate on a professional level.